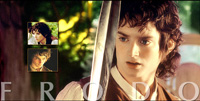 What LoTR Character Are You?
You are most like Frodo. You're very friendly, and you have a great personality. Although you like to have fun, you can also be pretty serious at times. It's pretty hard to get you mad, but once you're mad...everybody better look out! Keep that temper under control and realize that you're better off than you may think.

Sam is the faithful servant of Frodo Baggins. He cares an awful lot about his master and would probably give his life for him. Though Sam meets many marvelous people as he journeys with Frodo, he still wishes he was back home in the Shire.
Take the "Which Hobbit are you?" quiz created by Cora Black!